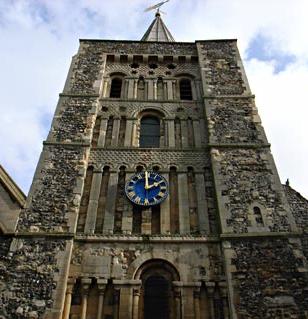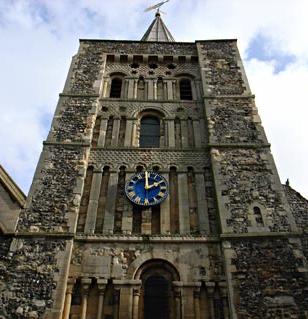 The Cinque Ports Ringing Centre was established at St Mary's Church in Dover town centre in 2003. Since January 2004 learners' practices have taken place here every Saturday morning from 10am to midday and are still well attended. The sound doors are closed and the bells heavily muffled for these practices which are "rung" on the simulator.
The tenor weighs 15½ cwt, but much of the training is on the front six, with a 9¼ cwt tenor. An anteroom to the ringing gallery is available for teaching ringing theory, handbell ringing and rope splicing.
Our aim is to make the Centre as widely available as possible and we are happy to arrange teaching sessions for visiting groups by appointment.
Learning Opportunities at the Centre
Saturday mornings
Learners' practices take place every Saturday morning from 10am to midday, with very few exceptions. Sessions are informal, allowing beginners much more time to gain confidence in handling a bell than is normally available on their weekly practice night.
We offer help in identifying and correcting faults, alongside exercises to improve bell control. If necessary we assist with raising and lowering a bell. Beginners may stand in for rounds on six or eight bells as appropriate for them. Steadier learners take part in activities designed to refine bell control and develop listening skills. The front six of the octave can be simulated as a natural six.
After the coffee break at 11am we try to concentrate more upon change ringing, but the time allocated to this and the level of difficulty vary from week to week according to the needs of those present. It isn't necessary to book but it is advisable to ask us in advance if a particular method or touch is wanted, to ensure there will be a chance to ring it.
We ask for donations of £1 per hour (50p for juniors) to cover the cost to the Centre for using St Mary's bells. For further information contact Barbara Dale (email) or simply turn up at 10 o'clock on any Saturday morning.
Special courses
Courses we have offered in the past include:
"Putting in the bobs" — for novice conductors
"Ringing and calling call changes"
"Rope splicing"
"Insight into ropesight"
"Plain and Little Bob Major"
"Kaleidoscope ringing"
and a number of "First Steps" courses: in Stedman, Treble Bob and Surprise
ITTS courses
The Centre can offer both Modules of the Integrated Teacher Training Course. Module 1 is concerned with teaching bell handling whereas Module 2 covers how to teach methods and how to run a practice. We shall pleased to hear from anyone who would like to teach ringing, or who finds themselves in a position where they need to know how to do it. Those who complete the course become accredited ringing teachers and are eligible for membership of the Association of Ringing Teachers.