Seven ringers attended the rope-splicing class on Saturday afternoon, 16 January 2013, two from Chartham, one junior member of the Dover band, and four others from as far afield as Sittingbourne, Chevening and Cowden.
Fids were available for everyone, either bought, brought or borrowed. Unlike a conventional marlin spike, a fid opens up the rope and threads a strand through in one operation, making short work of a short splice which everyone soon completed successfully.
Using a spare bellrope as an illustration, we could see why a short splice is unsuitable for use above the sally. Its thickness is double that of the rest of the rope, so it doesn't run smoothly over pulleys and can catch on rope guides. Before moving on to the long splice, however, Barbara Dale arrived right on cue to boil the kettle.
After a very welcome tea break we progressed on to the apparently destructive act of removing one of the strands from two feet of rope-end and cutting all but about three inches off. All was well though as another strand was soon worked in to replace it. The process was repeated with a second strand, leaving only the loose ends to tie in.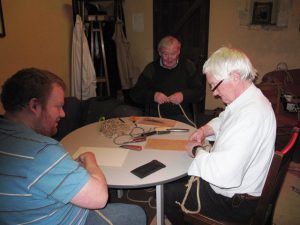 Some splices were immaculate, others were a little lumpy, but all were perfectly functional examples, so at the end everybody had the satisfaction of taking away with them the results of their handiwork. They had acquired a useful skill and had fun doing so.