AGM Information – 2020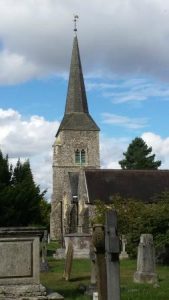 The County AGM this year is being hosted by the Lewisham District on Easter Monday, 13th April and will be based at St Nicholas, Chislehurst. The day will comprise a service, lunch and the Annual General Meeting itself. A variety of towers within the Lewisham District will be open on two routes leading towards Chislehurst in the morning and one route away to neighbouring Districts in the evening.
The information on this page can be downloaded as a pdf here
Service
The service will take place at St Nicholas, Chislehurst BR7 5PZ starting at 12 noon, and will be preceded with ringing by an invited band from 11.45am. There will however, be open ringing from 11.00 – 11.45am.
Lunch
Lunch will be in the village hall, a two-minute walk from the church, at 1pm, and the cost will be £15 per head (£7.50 for children) for a 2-course meal followed by tea and coffee. The menu for lunch is:
Main
Lemon & Parmesan Chicken with new potatoes and seasonal vegetables
(Gluten Free option available)
OR
Butternut Squash stuffed with tomato and chickpeas, served with new potatoes and seasonal vegetables.
(Vegan/Gluten free)
Dessert
Pavlova with summer fruits
(Vegetarian/Gluten free)
OR
Vegan pavlova with summer fruits
(Vegan/Gluten free)
Tea or Coffee
All dietary requirements will be catered for but these must be notified when booking lunch. Advance booking is essential.
Lunch will be by e-ticket only as follows:
Please email KentAGMtickets@lewishamdistrict.org.uk with requests for lunch, to include any dietary requirements. Payment should ideally be made via bank transfer to Debra Say, sort code 60-06-33, account number 34497579 quoting your name in the reference, no later than Monday 6th April.
If you wish to pay by an alternative method, please email the address above for help.
Tickets will be emailed prior to the meeting and in the interests of being more environmentally friendly, can be shown on your phone although paper copies will, of course, be accepted.
The closing date for booking lunch is Monday 6th April.
A choice of Kentish keg and cask beers, cider, red and white wine plus soft drinks will be available for purchase by cash or card, courtesy of The Hoppers Hut Micropub in Sidcup.
Annual General Meeting
All KCACR members are welcome to attend the AGM which will take place back in the church at 2.30pm. Chislehurst, St Nicholas bells will be available after the meeting and other towers will be open on one route leading out of the District.
Parking
Free unrestricted parking is available in the streets surrounding the church and the common. There is a limited number of parking spaces at the church hall itself which will be reserved for disabled badge holders. Please send an email to the contact address below to reserve a disabled space. A map is below.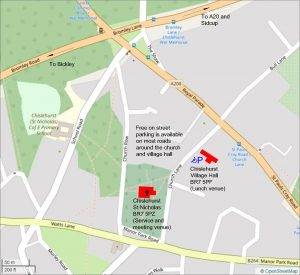 SatNav Information
St Nicholas, Chislehurst Church Postcode: BR7 5PZ Grid ref: TQ444699
Contact Email Address
Please email any questions or queries to:
KentAGM@lewishamdistrict.org.uk
KCACR AGM 2020 Ringing Schedule
Details of the tower routes are shown below. Any changes or updates to this list will be posted here.
9.45-10.30am
Horton Kirby (8)
Shoreham (8)
10.15-11.00am
Foots Cray (5)
St Mary Cray (6)
10.45-11.30am
Sidcup (6)
Bickley (8)
11.00-11.45am
Chislehurst, St Nicholas (8)
11.45am-12.00pm
Chislehurst (8) – Service touch by invited band
4.30-5.30pm (approx.)
Chislehurst, St Nicholas (8)
5.00-6.00pm (approx.)
Chislehurst, Annunciation of the Blessed Virgin Mary (8)
6.00-7.00pm
Farnborough (6)
8.00-9.45pm
Chelsfield (8) – Evening Practice
Coronavirus (COVID-19)
The General Committee and the Lewisham District planning committee have had discussions regarding Covid-19 and will continue to monitor advice from the government. Updates will be posted here when appropriate.