Saturday 30th September saw the resumption of the 6 bell competitions. It has been 3 years since the competition was last held due to the prolonged absence of ringing due to the Covid pandemic in 2020 and 2021 and the death of HM Queen Elizabeth II last year. As well as the change ringing competition, this year also saw the inaugural call-change competition.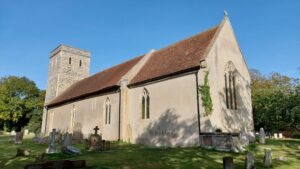 The host tower was Monkton in the Canterbury District. Monkton is a fairly new ring of 6 (augmented from 4) with a tenor of about 7cwt. The bells handle very well although they are a little loud in the ringing chamber. Four teams representing the Canterbury, Lewisham, Rochester and Tonbridge Districts assembled at the church in the morning for the first of the to contests to be held at the venue. As usual, the test piece was 240 changes of either a doubles or minor method.
The standard of ringing was very good and there was a very close finish between the top three teams. The final results were:
1st     Sturry (Canterbury District), 12% faults
2nd    Hadlow (Tonbridge District), 13% faults
3rd     Eltham (Lewisham District), 15% faults
4th     Tunstall (Rochester District), 38% faults
John Haimes from Sturry received the trophy and winner's certificate from the Chairman.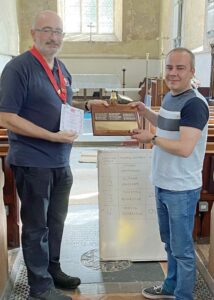 The afternoon saw the Association's first call-change competition. This contest is intended to help promote better striking by ringing call-changes. Four further teams entered and each team had to ring call-changes for 10 minutes. Rather than a set piece, teams had the freedom to call their own sequence of changes. The only requirement was that at least 5 bells were moved away from their home position.
Again, the standard of ringing was very good and the final results were:
1st     Cowden, 24% faults
2nd    Rochester District, 27% faults
3rd    Kent Young Ringers, 40% faults
4th     Crayford, 44% faults
Well done to all the teams, it was especially good to be able to welcome a team representing the Kent Young Ringers – this has been the first time that they have been able to compete in an Association competition.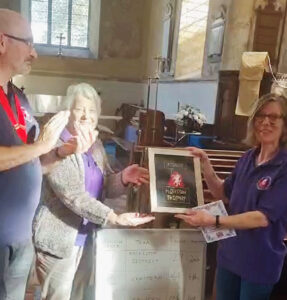 Jo Horton of Sturry has kindly donated a 'trophy' for this contest and was able to be at the competition to present the 'Horton Trophy' to the Cowden team.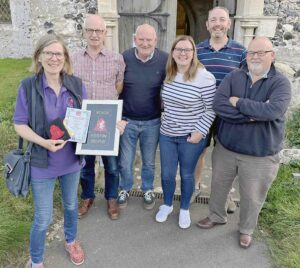 Thank you to the Monkton ringers for making us all very welcome and for the delicious refreshments that were provided through the day.