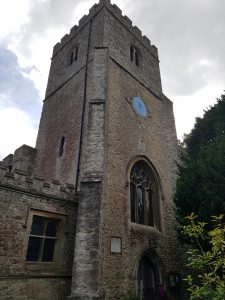 East Malling was the venue for this year's 6-bell competition, and luckily the slight rain stopped just as people arrived!
The draw took place at 9.50am when all bands were nearly complete.  Competition ringing got underway promptly by 10am and all the bands had rung by shortly before 12.30pm, all the while being kept refreshed with tea, coffee and lovely cakes in the church.
When the judge, Mark Esbester from Portsmouth, was ready Doug Davis, Hon. General Secretary welcomed everyone and thanked them for taking part.
Mark started by thanking us for inviting him to judge, then moved on to talk briefly about each of the teams' ringing before delivering the results as follows:
| | | | | |
| --- | --- | --- | --- | --- |
| Position | Team | Rang | Faults | Comments |
| 1st | Tonbridge District (Hadlow) | 4th | 37 | (PB Doubles) Test piece settled quickly with a good rhythm.  Got better as it went along. |
| 2nd | Ashford District (Ashford) | 6th | 43 | (Grandsire Doubles) Much faster ringing.  The band used all of their practice time.  The faster ringing did leave the tenor behind occasionally. |
| 3rd | Canterbury District (Sturry) | 2nd | 60 | (Grandsire Doubles) A short practice.  Test piece had a good steady pace, a few trips at the start but did settle down. |
| 4th | Lewisham District (Chelsfield) | 3rd | 81 | (PB Doubles) Not all of the practice time used. The test piece was rung slower with a few faults in the beginning but a better second half. |
| 5th | Maidstone District (Staplehurst) | 5th | 103 | (Grandsire Doubles) A nervous start to the test piece with a few faults in the first 4 leads, but did settle down in the second half. |
| 6th | Rochester District (Rochester Cathedral) | 1st | 127 | (Grandsire Doubles) A shaky practice.  Test piece started off well but got worse as it went along with more faults picked up in the second half.  The pace couldn't be agreed throughout. |
Mark presented Dan Jarvis from the winning team with the trophy, then Doug Davis thanked Mark for judging and presented him with a bottle of wine.
Some photos from the day are shown below.  Next year's competition will be held in the Rochester District.