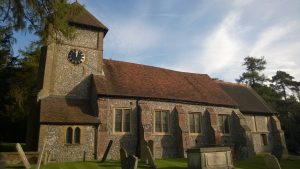 A lovely sunny September morning greeted the teams as they gathered at Farnborough for the striking competition on Saturday 24th September.  Judges Paul Flavell and Linda Foddering arrived in good time, and found a nice seat in the sunshine just far enough away from the church so as not to see who was ringing when!
The draw took place at 9.45am for the 5 bands that were complete, the Maidstone District and Kent Young Ringers teams having to be placed 7th and 6th respectively whilst they waited for the rest of their team members to arrive.  Competition ringing got underway promptly by 10am and all the bands had done everything they could shortly before midday, all the while being kept refreshed with tea, coffee and goodies in the church which most enjoyed basking in the sun in the churchyard.
When the judges were ready Doug Davis, Hon. General Secretary welcomed everything and thanked them for taking part. Before handing over to the judges, Alexander and Jamie from the Kent Young Ringers made a point of thanking everyone for allowing them to be part of the competition, and said that they had all learned something from the experience.  Striking Competitions are a daunting prospect for many, so it was very brave of the younger ringers to grab the chance to take part – well done!
Linda started by thanking Nick Wilkins for asking her to be a judge, and then thanked Paul for agreeing to judge with her.  She also thanked Farnborough and the Lewisham District for hosting and providing the refreshments.
Paul & Linda then delivered the results as follows, noting that the standard of ringing was extremely high throughout:
| | | | |
| --- | --- | --- | --- |
| Position | Team | Rang | Score |
| 1st | Lewisham District (Chelsfield) | 2nd | 91% |
| 2nd | Tonbridge District (Hadlow) | 3rd | 89% |
| 3rd | Rochester District (Bobbing) | 4th | 87% |
| 4th | Ashford District | 1st | 86% |
| 5th | Maidstone District | 7th | 82% |
Unfortunately the Canterbury District band (who rang 5th) had a mis-call early into their test piece and came round 2 leads short of 240 changes, so were not placed.  The Kent Young Ringers team (who rang 6th) unfortunately didn't complete their test piece which was stood up at the 2nd attempt, so also weren't placed.
Paul Flavell presented Nick Wilkins from the winning team with the trophy, then Doug Davis thanked the judges for all their hard work and presented Linda with a plant & bottle of wine and Paul with a bottle of wine.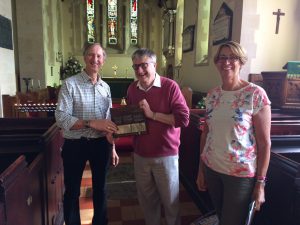 Here's looking forward to next year in the Maidstone District!
Doug Davis
Hon. General Secretary