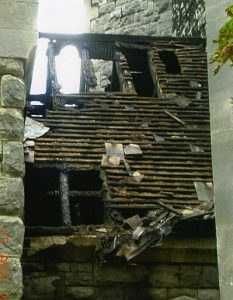 Part of the roof of Chatham church was damaged by fire on Monday 15 August 2011. The blaze started at around 5.30am and six fire engines and some 30 or so firemen attended to put it out. The cause of the fire is not yet known, but the police are said to be treating it as "suspicious".
Fortunately the tower and bells are unscathed, with the damage being to the porch that connects the main building to the tower, which is virtually detached. Ringing is suspended for the time being but we'll keep you posted.
In the photograph (thanks to Tim Wraight) the tower is to the right of the damaged roof.