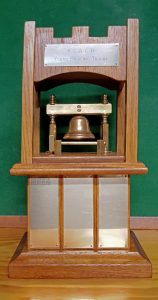 The 4th KCACR Young Ringers' Contest was held at Sturry (on the outskirts of Canterbury) on a very wild and wet afternoon. 24 youngsters aged from 9 to 22 gathered after battling the wind and the rain from the far reaches of Kent. A wonderful tea and very welcome hot drinks greeted us inside the church where Trevor Arnold had set up his Maypole Mini Ring. We found a little spot for the judge… as suitable as possible, given the weather; the draw took place and an afternoon of really lovely ringing got underway. The ringers of Kent should be very proud of the standard of ringing being produced by our younger generation. Various activities were on hand to occupy us while not ringing: the Maypole Mini Ring (two teams took advantage of this to practise their test piece, having not been able to practise beforehand!), a tricky Wordsearch, a quiz devised by Adam Moore, handbells in the very warm porch, biscuits to decorate with various methods and bell motifs as well as hanging around the door to listen to the competing teams.
Full teams from the Canterbury, Lewisham and Tonbridge Districts entered along with a band made up of 3 ringers from each of the Maidstone and Rochester Districts. These four teams rang Call Changes and we also entered a scratch band made up of a Young Ringers representing each of the 5 Districts at Sturry and one other drawn from volunteers. This band rang a method, to challenge the more experienced ringers. We were VERY pleased to welcome 11 ringers taking part in the contest for the first time: Phoebe, Morgan, Dylan, Merrick(Canterbury), Ellis, Sam, Nathan(Lewisham), Caitlin(Rochester), Callum, Emily and Liam(Maidstone) and Olivia(Tonbridge).
The identity of the judge as Daniel Jarvis, taking a weekend out of his university studies in Liverpool, was revealed and introduced to the assembled throng of teams and supporters.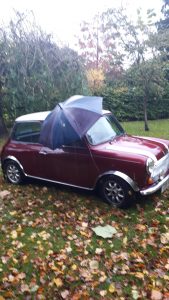 Daniel explained his system of marking and proceeded to give the results. The teams representing the Districts were awarded the following results:
  Canterbury: 70%:
 Lewisham:  75%
"Maidchester": 84%
and the Trophy winners were Tonbridge with 86%!
The Method-ringing Band was awarded 81%, slotting right in the middle of the District teams.
Certificates were presented to the teams and the Reverend David Cawley presented the trophy to the Tonbridge team. Congratulations to them and many thanks to everyone for taking part.
The afternoon continued with 9 Young Ringers and 4 adults at St Stephens Canterbury where we rang Rounds and Call Changes, Plain Hunt, Plain Bob Doubles, Grandsire and Plain Bob Triples, Kent and Yorkshire Major and the day was rounded off with a very convivial hour over pizza before wending our way homewards.
(Team photos to follow)