This long awaited date finally arrived with members of Kent Young Ringers showing off the glory of East Peckham and Quex to the Editor of the Ringing World. Views of the beautiful countryside from St Michael's Old Church were stunning as always, with Hadlow Tower standing out across the fields. This redundant church is always an interesting visit and the editor had the bonus of being taken up to see the bells before ringing a quarter peal of 1440 Single Canterbury Pleasure Bob Minor. For various reasons these bells have held a special appeal for some Kent youngsters and ringing a quarter here has almost been a rite of passage. Saturday's experience did not disappoint…. the electricity supply to the ringing room failed, resulting in the quarter being rung in a darkened ambiance. The timing of the "after photo" coincided with the only major rain of the day, so we had an interesting  photo inside the church. Amber had brought along her pink 18th Birthday "cowgirl" hat; this featured throughout the day on the heads of various ringers.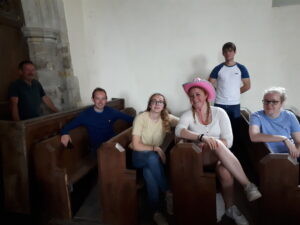 Off we drove, via a carpark in Aylesford to drop off Laura's car, reconvening later at the Waterloo Tower. Here we met up with the Steele family and Rebecca, who had run the 5th of her 7 half marathons (fundraising for the Royal British Legion) from Whitstable to Quex that morning.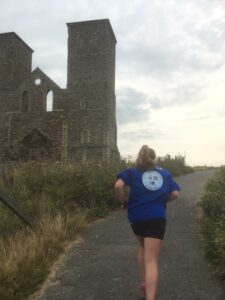 The inevitable phone calls and messages then arrived "we're in the park, but we can't find the tower" ….. not easy to explain(!), so Hazel set off to rescue a few!
The Maypole Bells were set up in the "lobby" area; a surprisingly good set-up. 14 Young Ringers converged on the tower and all had a good ring, including rounds on 12… many for their first time.
The atmospheric ambiance continued with Amber, Dan and Lucy ringing a handbell peal by candlelight in one of the ante-rooms. David Sheekey cooked sausages and burgers to perfection, enjoyed by families on picnic rugs, avoiding the few spots of rain  (thankfully not the persistent rain we had expected). Michael guided Will and others up the tower and Hazel was on hand to talk about the history of the tower.
Members of the Canterbury District arrived for their summer social event; it was good to see old friends again and the more experienced youngsters could now try their hand at methods on high numbers, before wending our way westwards again.
Looking forward to next year!