HUGE congratulations to the Kent Young Ringers team
on winning the Ringing World Editor's Trophy for Excellence in the Ringing World National Youth Contest in Liverpool on Saturday.
24 teams from all over the country entered, 6 teams rang Plain Hunt, Bob Triples or Grandsire Triples and Oxford came first in this section and first overall, winning the Whitechapel Trophy.
18 teams rang Call Changes and Kent were placed first, gaining 2nd place overall in the contest and the Trophy as above.
Very well done to our team: Lucy Harvey Treble (Hadlow), Isabel Hopper 2 (Bredgar), Stephanie Runting 3 (Sidcup),  Amber Cusick 4 (Westerham), Jamie Austin 5 (Brasted), Ellen Jones 6 (Rochester Cathedral), Daniel Jarvis Team Captain 7 ( Hadlow) and Laura Byrne Tenor (Penshurst)
Thanks also to our reserves Sam Chard (Sevenoaks) and Victoria Higgs (Marden), who were primed and ready to ring if necessary.
This is the 9th Year of the contest and the 4th year Kent have entered.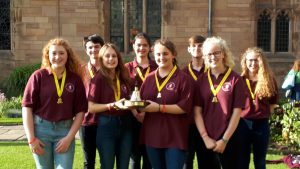 Thank you to my colleagues, Neil Jones and Benjamin Legg, who have supported us throughout and proofread all my admin!, and to the parents who came to Liverpool to support and feed us. We had a fabulous weekend and we thank the KCACR for the financial support.
There should be the official recording of our Contest piece on the RWNYC website very soon ( which I hope to copy on to our Kent Website and Facebook pages.
Jen
Jennifer Thomas