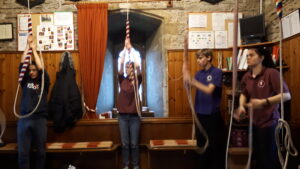 Our first team practice for 2022 was held at Staplehurst on the Wednesday of half term. This was Joe's initiation into KYR team ringing! We were able to practise our listening exercises and Call Changes on 6 and on 8.
Storm Eunice prevented a few members from getting to the afternoon session at Aylesford on Saturday 19th February, but 12 youngsters from as far afield as Sevenoaks and St Peter in Thanet were able to enjoy ringing together.  Tiles and guttering had been blown off the roof and were scattered around the entrance but this didn't prevent us enjoying a good range of ringing: R& CC, P B Doubles, PH 7, Grandsire and P B Triples, Stedman Triples, Cambridge Minor.
Callum, Adam and Jen rang handbells before the practice: Plain Bob, Little Bob, St Clements. Hannah and James had a go, too.
Ellen Jones handed the RWNYC Trophy on to Callum Shona Clark for the next couple of months.