Dear all,
Welcome to the latest update from your Lewisham District, a few days early this month because of the out-of-town "Country Meeting" on Saturday. Here are the arrangements for that:
Saturday 1st July
1030 – 1200 open ringing at St Michael and All Angels; 8 bells, tenor 6-1-24 in C
1215 Quarterly Business Meeting at St Michael's:
Note of attendance and apologies for absence
Remembrance of any members lost since the last meeting
Approval of the

 

minutes of the last meeting,

 

and any matters arising
Election of

 

new members
County Rep update
120 club draw
Any Other Business
1245 Lunch & transfer to All Saints
1430 – 1600 open ringing at All Saints; 10 bells, tenor 32-0-20 in C#
There are plenty of good train links to Maidstone, including the 09.12 from Bromley South which stops at St Mary Cray and gets to Maidstone East at 10.00. There are variety of parking options around both towers – though please note that most of the town centre car parks are Pay and Display, so please check the signs carefully! There are plenty of pubs and eateries in the town. The walk between the two churches takes about 15 minutes through the town centre, or a few minutes longer along the riverside – be aware that that route does involve a steep hill but it's a prettier way to go!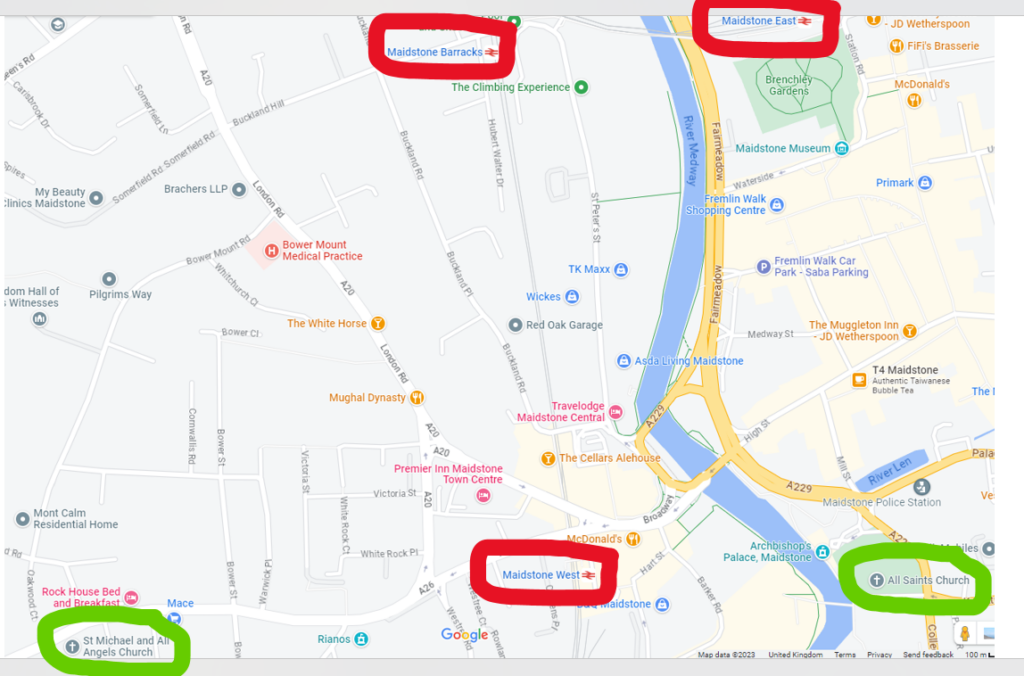 Please could you remember to bring a pound or two with you so that we can leave a respectable donation at each tower.
Ruth would also be really grateful if you could send her a quick message by text or WhatsApp (07843 538952) if you're planning to be there. Just let her know what you can ring confidently on 8 and 10 bells, and what you'd like to have a go at, so she can plan some touches ahead of the day.
June District Practice
It was great to see such a good level of turnout at our Friday evening practice at West Wickham in June. Sixteen ringers enjoyed Stedman, Norwich, Plain Bob, Plain Hunt, Cambridge, St Clement's, Grandsire and some Spliced on a lovely summer's evening. Thanks to Jon and Judith for hosting us.
W&P Open Day
We've been asked by our friends in the Winchester and Portsmouth Guild to make everyone aware of their Fundraising Open Day on 30th September. It's being organised to raise funds to restore the bells at Ropley, where the church was destroyed by fire in 2014. Details are at https://www.wpbells.org/open-day-for-ropley/ if anyone would like to know more.
County 8-bell competition
Congratulations – and commiserations – to the band who represented the District at the County 8-bell striking competition at Lympne on 17th June. Despite completing the test piece of 2 courses of St Clement's Major, and being complimented by the judges for "a very good piece of ringing", Lewisham were just beaten into second place by the Canterbury District band by a margin of only one fault. Well done to those who rang, and thanks to those who came to support. The band (from treble to tenor) was Philippa Rooke, Tom Hinks (C), Ann Saunders, Rhiannon Meredith, Rupert Cheeseman, Nigel Pointer, Jim Hardy and Ian Mills.
Firsts and Footnotes
June's highlights so far, from BellBoard. Well done to:
Daniel Oates – first quarter on eight, trebling to 1260 Grandsire Triples at Eltham
Caleb Saunders – first peal of Grandsire; 5040 Triples at Farnborough
Becca Hardy and Amber Cusick – first quarter of Double Norwich Court Bob Major; 1264 at Bromley
The two new trebles at Farnborough were dedicated by the Bishop of Tonbridge on 18th June, marked with a peal (also of Double Norwich) which was composed and conducted by Colin Wyld. A notable peal was also rung there on 6th June – the 79th anniversary of D-Day – in memory of local resident Ernest Stanley Burrell (1921-2023) immediately prior to his funeral. Ernest had been awarded the Legion d'Honneur for bravery on D-Day. Quarter peals were rung at Sidcup in memory of Justin Lariviere and Nicola Jane Webb, and at St Mary Cray in memory of Bernie Hurr.
That's all
You can contact us any time by email  . We hope to see you in Maidstone on Saturday – please do come and join us if you can. There'll be no update email or event in August; the next District Practice is on Saturday 9th September, 10.30am at Ash-by-Wrotham. We wish you a pleasant summer break – see you soon! 
Best wishes
Ruth & Nigel