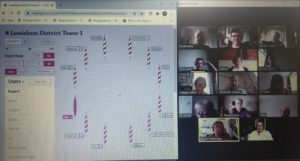 Dear All,
Thank you to everyone who came along to the first virtual district practice on 4th July which went according to plan and seemed to be enjoyed by all.
Ringing in two virtual towers for the first session gave those who were more unfamiliar with Ringing Room the opportunity to have a go at some basics, after which we all came back together for a chat and to witness the 120 Club draw.
One virtual tower was used for the second ringing session to allow more variety and we managed to get through Plain Hunt on 11 and a plain course of Grandsire Triples, both of which we can count as a success because ringing on Ringing Room is not easy.
We all agreed the practice had been worthwhile and a second district practice has provisionally been pencilled in for Saturday 8th August and I hope the success of this morning will encourage a few more to come along.
If anyone who came along has any feedback which we can take forward when we plan the next practice, do please let me know.
Best Wishes
Debra
(opps forgot to press the publish button when originally created this -Rupert)