To mark Vice President Stanley Evans' 70 years' membership of the Association a quarter peal of Grandsire Triples was rung on 29 July 2014 at St Margaret's, Rochester, 70 years to the day since he was proposed a member at a District meeting at that tower. Stanley learnt to ring at Minster-in-Sheppey, part of the recruiting drive for new ringers when ringing resumed after World War II. Stanley himself came on the train from Canterbury to ring in the quarter, and the band was made up of ringers from all over Kent.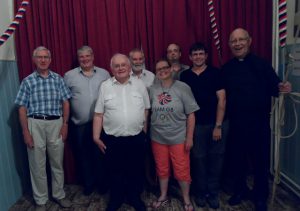 From the left, the band is Chris Ossenton, Phil Barnes, Stanley Evans, Peter Sims, Cathy Cheeseman, MRFS, Rupert Cheeseman and David Cawley.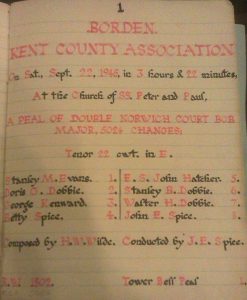 We're grateful to Rupert Cheeseman for the above photo of the page in Stanley's peal book showing details of his first peal.
Florence Hamp