Ellen Jones from Rochester Cathedral has sent in this report from the RWNYC held in London on Saturday: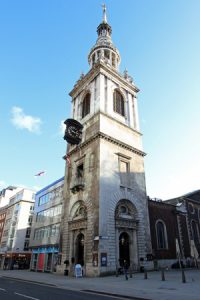 St. Mary-le-Bow (12 bells) – Headquarters for the day
On Saturday 2nd July, The Ringing World National Youth Contest took place in London, based at St Mary le Bow.There were 24 teams that came from around Britain. This was the first time Kent had ever competed in this competition and members of the Kent team were from the Tonbridge, Lewisham and Rochester Districts.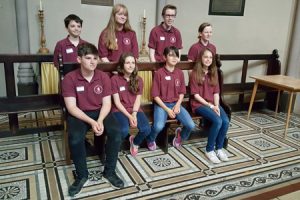 The Kent team at St Dunstan's in the East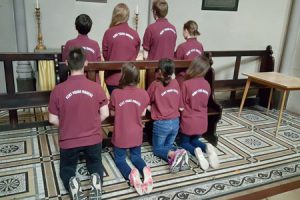 Kent Young Ringers Team Shirts
The morning heats were in three towers, St Dunstan in the West, St James Garlickhythe and St Savior Pimlico. During the time that your team was not ringing there were things to do, for example: a tour of the bells in St Pauls Cathedral and ringing at lots of other towers. At lunch time everyone went back to Bow to hear the qualifiying teams for the final.
Six teams qualified for the final, they were: Young@Herts (Hot Buns,) Fen Tigers, Three Spires (Lichfield and Walsall,) Bedfordshire Young Ringers, Oxford DG and Sussex Young Ringers. Whilst they were ringing the other teams had lots of other ringing in the afternoon.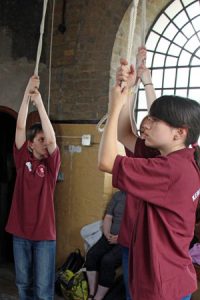 Some of us in action at St George in the East (8 bells)
We went back to Bow for the final results and grades. All the teams received a medal and a grade. Kent were awarded a 'B' grade. The winners of the gold medal for the Call Changes Catergory were Young@Herts (Hot Buns) and the winner of the gold medal and the Whitechapel trophy for the Method Category were Bedfordshire.