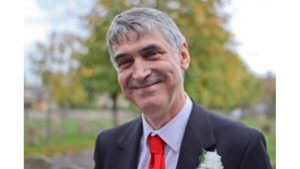 Many of you, especially in Rochester District, will at some time have rung with Ray Morgan. You probably also know that last summer Ray was diagnosed with Motor Neurone Disease. He died shortly before Christmas, a tragic loss to his family, his many friends, and the ringing community.
Ray learnt to ring in London and when he moved to Kent in 1988 he joined the band at Rochester Cathedral. For almost 30 years he was a loyal member of the Cathedral band, always good company & friendly & encouraging to all. He helped to teach the new band at St Margaret's Rochester in 2005-6, and rang regularly at Hoo and at other local towers. He regularly attended Rochester District meetings and other events and was District Rep for a number of years.
We are asking ringers in Kent, whether or not you knew Ray, to help raise funds for the Motor Neurone Disease Association. Motor Neurone Disease (MND) is a relatively rare & devastating disease which in most cases progresses rapidly. As yet there is no effective treatment.
The MND Association funds and promotes global research into MND and provides support to people with the disease. MND does not receive the recognition it deserves, and contributing to the MNDA through bell ringing is a fitting way to raise money for this cause, and to provide a lasting & meaningful legacy for Ray.
Our idea is that towers across Kent 'donate' a quarter peal in any method to MNDA. The ringers can donate whatever they choose – eg £5 a rope – via a Just Giving page. Just Giving will pass the money direct to the MNDA. Donations that are gift aided will be worth an extra 25%, which more than covers the modest charge from Just Giving.
Here is the link to the Just Giving page:
https://www.justgiving.com/Anne-Pedder
In Ray's memory Daniel Brady has composed a method, Ray Morgan Bob Triples. Ray knew about this shortly before his death and, in his words, was 'overwhelmed'. The first quarter peal in the method will be rung in Rochester, & after that we hope there will be more quarters in the method around the county, in memory of Ray & contributing to the fundraising for MNDA.
Please discuss this fundraising plan with your ringing friends & colleagues, and put some dates in the diary for 'Ringing for Ray'. Kent has over 240 ringable towers and over 1,400 active members – let's get those bells ringing out for MNDA and in memory of Ray.
Sue Gullett, All Saints, Staplehurst
Anne Pedder, formerly of Rochester Cathedral