Some of you may have been following the ongoing ringing, related to the "Strike Back against Blood Cancer", otherwise you might just have seen it in the Ringing World or on BellBoard and wondered what it's about.
This money and awareness raising effort has been orchestrated by Julie McDonnell, a bell ringer from Sussex with the help of several ringers from the area.
As part of this, a new doubles variation has been named (Julie McDonnell Doubles), and recently £10,000 has been pledged to the charity if 100 quarter peals of the variation are rung before the end of the year. One of these has already been rung here in Kent, but it would be great if we could help make a dent in this 100 quarter peal goal.
If you want to help, the variation is, Callender Bob with a Lichfield Single, for those a little more visual there are diagrams below showing what this means (click on them to make them larger)!  If you do ring a quarter peal of this you'll need to upload this to BellBoard and link it to the event "Bellringers Strike Back Against Blood Cancer"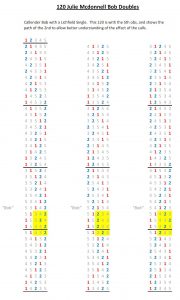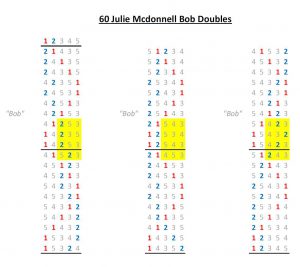 To download the above images as a PDF, please click here.
Daniel Brady