The Ashford District were able to enter a team in the Young Ringers' Striking Contest this year for the very first time. 3 of the team are from Benenden and 3 are from Frittenden. They rang really well, finishing with a score of 8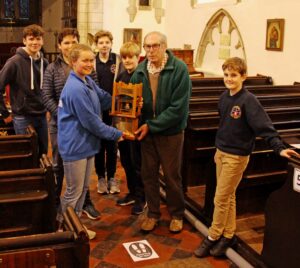 and were presented with the Trophy by Vice-president, and Frittenden Tower Captain, David Manger!
A mixed team with ringers from the Rochester, Maidstone and Canterbury Districts rang brilliantly, scoring a fantastic 3, attaining first in the placings, but were ineligible to win the actual trophy.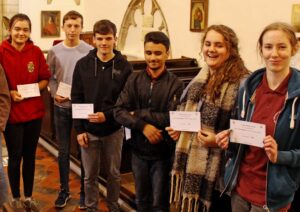 A combined scratch band to ring a method was formed and chose to ring Plain Bob Doubles. This band scored 10 and was placed third.
Another mixed band from the Canterbury, Lewisham and Tonbridge Districts included 3 very inexperienced ringers! They all coped really well with the new experience of ringing in a striking contest and scored 16.
We say a big "Thank you" to Amber Cusick for judging the contest on her weekend home from university.
A very convivial afternoon at Farningham was enjoyed; thanks to Rod Lebon for bringing along handbells to be enjoyed by a number of youngsters and adults; there was plenty of chat and laughter in the refreshment zone with some interesting designs iced on to this year's star shortbread biscuits.
Emma Jarvis spoke to the Young Ringers, parents and District Youth Coordinators about her role as Association Safeguarding Officer.
Many thanks to the Lewisham District and the church of SS Peter & Paul for enabling and hosting the 2021 Young Ringers' Striking Contest ….. it was so great to have 17 youngsters and their accompanying adults meeting up to ring and socialise.
The Trophy has reached the home of the Steele family and will be engraved in due course.